Experience
Do you exist on photos with your love ones?
Do you own photos to pass to the next generations?
Let's create memories of your whole family with Pavlina Perry.
A FULL SERVICE PHOTO-STUDIO, FROM WARDROBE TO WALL DESIGN
When you're ready for an phenomenal experience let me know and I'll show you what it's all about! Your memories are worth it!
Having your gorgeous custom-made portraits up in your home is a fine art treasure. Whether your style is contemporary, transitional, or truly romantic, I can help you create distinctive and sophisticated decor for your home that you will enjoy forever.
Photography and design was always part of my life and always will be. What can I create for YOU?
When was the last time you had professional photos done for yourself?



Wouldn't you love to see yourself in a magazine, in a style like Vogue or Vanity Fair?
Wouldn't you love to be treated like a princess for one day? Wouldn't you love to see images of yourself with your children? Those will be priceless 30 years from now.

I want you to invite you to my studio and let me show you how I can make your day very special and take the most beautiful images you have ever seen of yourself.
BEFORE THE SESSION
A short, 10-minute phone call to get to know you a little bit better. The first question I ask is what are your hopes and wishes for this session? What is it about your children that you want to remember years from now and how do you want to remember it? In an album that can be handed down from generation to generation, in a wall portrait that will make you smile every single day? From there, we will work together to choose a location and wardrobe to achieve that vision.
Once a date is selected, you will be asked to fill out a client questionnaire/agreement and submit your session fee which covers my time at the session and acts as a retainer to hold your date.
DURING THE SESSION STUDIO SESSION

These take place in my beautiful, relaxing home studio, fully equipped with professional lighting, props, toys, newborn outfits, headbands, hats and backdrops, and maternity wardrobes. Snacks and coffee are also provided in the waiting area with free Wi-Fi, where older siblings and their families can relax, watch TV, when the session is going on. The session usually takes up to one hour and are scheduled during the weekdays between 10 am-2 pm.
ON LOCATION SESSION

There are several gorgeous locations that we can start to choose from during the consultation stage or we can choose a place off the beaten path that may have some special meaning or memories. We generally schedule these shoots during the "golden hour" about 1.5 hours before sunset when the light is soft and lovely. This timing may not be ideal for families of young children depending on the time of year.
We can do a mix of posed family portraits and candid, natural images. We may dance, jump, scream, tell secrets and jokes – the goal is to capture your family's genuine personality. My goal is that families are relaxed and are free to be themselves, that they go home with great memories of the time spent together. You will have plenty of images to choose from for your heirloom album or to display on your wall.
IN-HOME - LIFESTYLE SESSION


We will start with a visit to the indoor and outdoor rooms/spaces you would like to shoot in and determine which will be the most ideal based upon the incoming natural light. As space allows, we can add reflectors and portable lighting when necessary.
THE DESIGN CONSULTATION & ORDERING APPOINTMENT

The ordering appointment is in a relaxing sitting area, you will view a slideshow of all of the images, and I will walk you through all the questions you may have. You will be able to touch and feel the products as well as see realistic mockups, correctly sized, of what the images will look like on the walls of your very own home.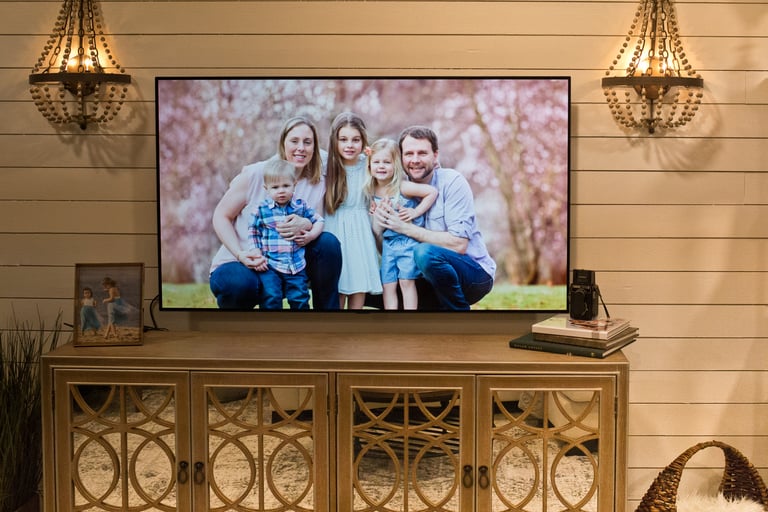 FOLLOW ME ON INSTAGRAM